Orientation services for international students
At the beginning of each semester, we provide all new students at Martin-Luther-Universität with information on organizing their studies and stay in Halle.
The following presentations and videos are offers especially for international freshmen.
They contain information on topics related to the university (library, Stud.IP, Löwenportal & Co.) and student life.
Pick up dates for enrolment documents
The late submission and pick up of enrolment documents will be in person only and only on the following dates:
Thursday, October 6th 2022 10 a.m. - 12 p.m. (Orientation Week)
Tuesday, October 11th 2022 1 p.m. - 3 p.m.
Thursday, October 13th 2022 10 a.m. - 12 p.m.
Place: Löwengebäude at the main campus
Welcome Week and subject-specific introduction sessions
At the beginning of each winter semester, we offer all new students the Central Orientation Days (Zentrale Orientierungstage) including a Matriculation Ceremony (Feierliche Immatrikulation). The International Office participates in this with special information sessions for international students that will take place in person on October 5, 2022. You can find a concrete plan of the programme below. The programme is also offered in English. Of course, you are also welcome to attend the programmes offered in German.
If you are doing your entire degree programme in Halle, you should also attend the subject-specific introductions! Don't be put off by the fact that the schedule database is in German, because in the drop-down menu you will find English/bilingual schedule entries for the international and/or bilingual study programmes. Why not give it a try right now?!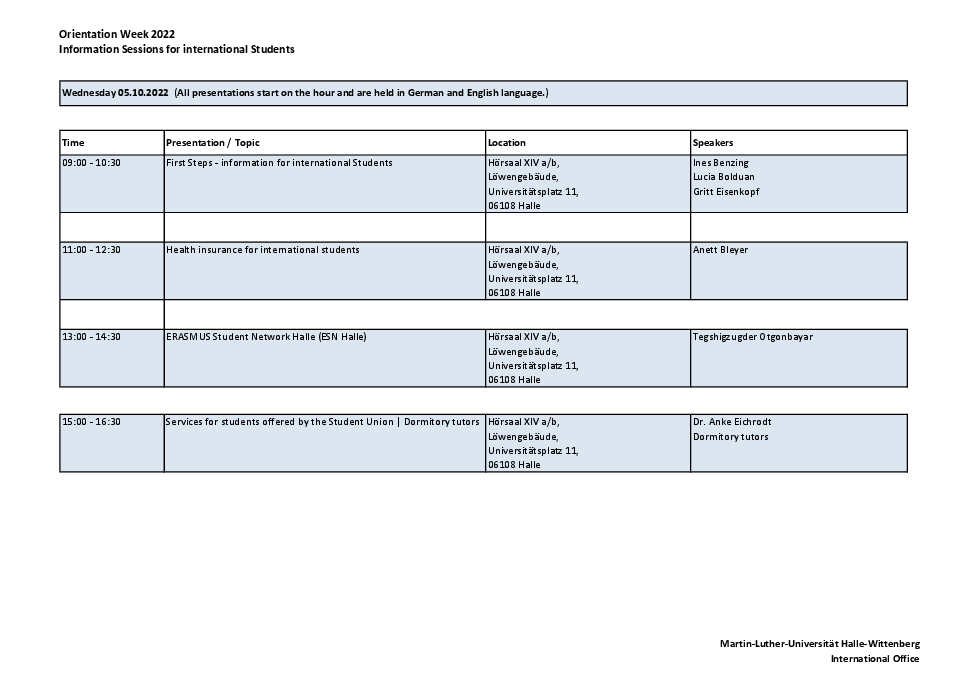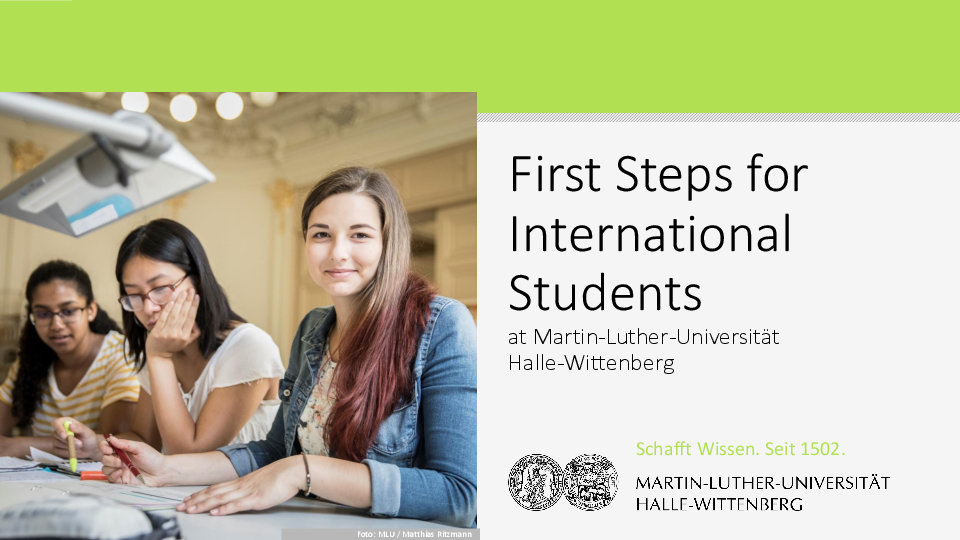 Individual online consultations for international students
In addition to the presentations and events, international students have the opportunity to book an appointment for an individual online consultation.
Contact
Gritt Eisenkopf
Coordinator International Students Section
Phone: +49 345 55 21 535
Telefax: +49 345 55 27 427
gritt.eisenkopf(at)international.uni-halle.de
Address
Martin-Luther-Universität Halle-Wittenberg
International Office
Universitätsring 19/20
06108 Halle (Saale)