Information Sessions for International Students on October 9th & 10th
Special introductory sessions for international exchange students
At the beginning of the winter term 2019/2020, we welcome all new international students at Uni Halle with introductory and orientation sessions on October 9th and 10th, 2019.
With information sessions on topics related to the organisation of your study stay at Uni Halle and your student life in the city, we will inform and equip you for your time abroad.
The orientation sessions will take place at AudiMax, lecture hall XXII, Universitätsplatz 1, at the following times:
Wednesday, October 9th 2019, 9:00 am - 4:30 pm
Thursday, October 10th 2019, 9:00 am - 12:30 pm
Afterwards at 1:00 pm, interested students can join a language placement test organised by the Institute for German Language and Culture e.V.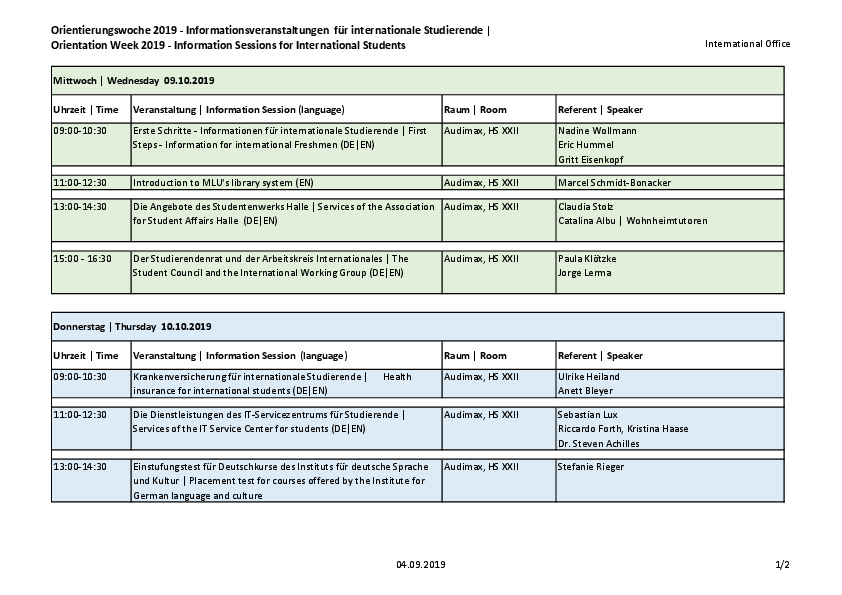 Contact
Gritt Eisenkopf
Referentin International Office Service – Students
Phone: +49 345 55 21 535
Telefax: +49 345 55 27 427
gritt.eisenkopf(at)international.uni-halle.de
Address
Uni Halle
International Office
Universitätsring 19/20
06108 Halle (Saale)